Hi, and welcome to another Sunday!
Hope you have had a great weekend so far.
Today it´s time for
Super Sketchy Sunday
at
365 Cards
.
Wee-hoo!!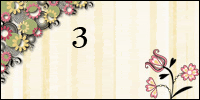 And it seems like Pamela never run out of new great sponsors! Another
wee-hoo
for that!
This week we are lucky to be sponsored by
Wink Wink Ink
. They have the most sweet and adoreable digistamps you could imagine! Go check them out for yourself.
A Super Sketchy Sunday wouldn´t be a Super Sketchy Sunday without a gorgeous sketch, right?
And , of course, Pamela have one for us. = )
At first, I thought this was a tough sketch, considering the digi I had to play with. But it didn´t take long before I had come up with an idea!... that, of course, involved twisting and turning the sketch a little ; )

And here´s the outcome!
I just looove that sweet little pony! Coloured with distress inkpads and waterbrush.
The sentiment goes "Hugs!". I think she looks just like she wants to say that, don´t you?
I just had to add a little glossy accent to her mane and tail. Think she looks like a real girly girl ; )
Ok... that was all I had to show today. Hope you got inspired and come play with us!
Don´t forget to check out all the other dt samples over at
365 Cards
. You know, there are some very talented ladies creating their best there! Don´t miss it!
Have a great day everyone!
~LOVE ~
Sophia