Hi everyone...!
Today it is, once again, time for the
Sunday Sketch
at
365 Cards
!
Best day of the week! = )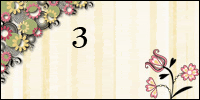 Pamela surpriced us this week with this new sponsor,
DRS designs
, that sent us some real rubberstamps!
Weehoo!
For as much as I enjoy working with digistamps, I sure like to get my hands all inked up using the real stuff.
And my hands really got inked up today... ; )
Ok... the sketch then... Think this was a very wonderful sketch to play with...Thanks a lot Pamela!
Actually, I have already used it for three different cards. One I can show today, but the others will have to wait a few days... = )

Here´s my card for the sketch.
I had soo much fun embossing and distressing!
Can you tell that I started out with plain white cardstock...? No...? But I did.
I embossed the candles with clear embossingpowder and then went over it all with distressink "Tea dye", "Vintage Photo" and "Walnut Stain". Now you know what I ment with the dirty and inked up hands, right?
Here´s a little close-up on the embossing. If you haven´t tried this technique yet, do it! It´s an easy way to get just the right background paper. And it´s fun too! = )
Hope you try this technique. And if you do... feel free to come back and tell me. I would love to see what you have created!
But before you go ... don´t forget to have a look at the other dt samples over at
365 Card
!
Have a great Sunday!
~LOVE ~
Sophia