Weehooo!
It´s a Robyn´s Fetish kind of Sunday...! Or, at least, that´s our sponsor for this week at 365 Cards. You have to check them out... some great looking digis and some awesome digipapers as well!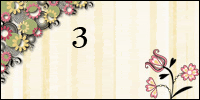 And it wouldn´t be right without a new wonderful sketch to play with... soo, here´s the one we got to play with. Love it! I have already tried it on a couple of cards... = )
But, the one I´m gonna show today, is the one I did using a lovely digi and 2 digipapers from our sponsor. Enjoy!
I have printed the plain orange and the pattern paper onto vintage white Bazzill cardstock. And the sweet little fairy is also printed on cardstock... Bazzill smooth.
Since I like to do my colouring with distressink, I have to print the image by laser. Otherwise it´s not possible to use waterbased ink, such as distressink... = )
A close-up on the sweet fairy... she´s soo lovely!!
And here´s another close-up, showing more of the digi-papers. First time I tried printing my own papers...I liked that I got texture on the pattern paper as a bonus.
Before you´re off to somewhere else... don´t forget to have a look att the rest of the dt samples at
365 Cards.
Ps... I looove reading your comments, so please, feel free to leave me some feedback on my work.... = )
Have a great Sunday!
~LOVE ~
Sophia