"...I wanna be loved by you...just you...and nobody else but you...!"
Anybody recognizing the song...? Oh, don´t worry. You soon willl, I guess.
But first, I´d like to welcome you all to another fantastic week at 365 Cards!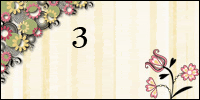 This week we are celebrating another 7 Sketches Week! And that means you are up for some really good and challengeing sketches to play with. And there´s a really thrilling prize too.... Pam is looking out for a few Guest Dt´s.... *wink, wink*
First out is this gorgeous sketch from Pamela. I soo loved the simplicity in it. Makes me wanna use it over and over again...
And here´s my take on it.
Have you found out yet were the lyrics came from...? Of course it´s from darling Betty Boop! Think she´s soo cool!!
Have to confess that this is a "joint venture"..... I got the sweet tag from one of the coolest scrappers I know -
Maiden
. The ribbon´s from my dear friend -
Happy Anna
... and the patterned paper was given to me by my best friend -
Suss
!
Thank you girls! You are the best! I soo much apprecieted our crafty day together.
Well... don´t miss your chance to see all the other cool, beautiful and lovely cards from the DT´s... you don´t wanna miss it!
Have a great week now... and don´t forget to play with us... ; )
~hugs~
Sophia