Welcome to our Celebration Week over at
365 Cards
!
Recently, the Design Team put our heads together to come up with a way to properly celebrate having reached ( and surpassed ) 1000 followers. We also wanted to show our appreciation for all of you who contribute to
365 Cards,
whether regularly or occasionally, so we asked eleven lovely ladies to be our Guest Design Team this week. That means our regular DT gets a week off as the Guest Dt takes over!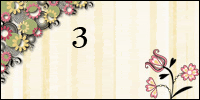 Here´s the sketch for the week...
So, instead of a card of my own, I have the honor to show you what a gorgeous card Nicole have made. Nicole was picked by me to fill in on my spot this week. And she did it with such elegance!
Nicole is one fabulously talented cardmaker, as you can see in her blog , and also runs The Prickley Pear Rubber Stamps....

.... and, as a matter of fact, The Prickley Pear Rubber Stamps is also sponsoring this weeks winner with a 20$ Gift Certificate.
And this is something you don´t wanna miss your chance on, right? All you have to do to earn a chance ( or seven ) at winning that prize is participate in any, or all, of our challenges this week.
So pop on over to 365 Cards and get inspired by our fabulous Guest Designers and all fun challenges!
Wish you all a happy and sunny day!
~LOVE ~
Sophia