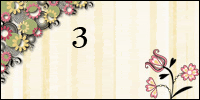 And we have a new fabulous sponsor, Lauretta´s Digital Stamps....



....and, of course, a new fabbie sketch to follow!
Oh´boy was this a though sketch, or what! I had to bend the rules a little bit to make it come together ; )

... and here´s the result. Bending the rules just a little bit... = )
Here´s a close-up on that sweet little cowgirl. = ) I have to apologize for the bad photos..
You have to go check out what the rest of the team made. Some fab cards, I promise!
And don´t forget to take part in this weeks challenges. One lucky winner will get their hands on some pretty cool digistamps! Wee-hoo for that!
Ok, so now I´m off to make my kids some breakfast.... Have a great Sunday everyone!
~LOVE ~
Sophia