Hi everyone!
Can you belive how time flies...? It´s already Sunday and I don´t know were this week went...
Recognize the feeling..?
Well, anyway, it´s time for
Super Sketchy Sunday
on
365 Cards
! Wee-hoo! Hope you get to play along.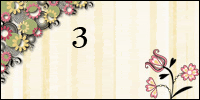 Pam has given us a lovely sketch to play with and...also managed to get
KLM Digital Designs
to sponsor us! This is the second time that they are so generous to sponsor us! Thanks a lot for that! Soo apprecieted.
And here´s the sketch to play with... enjoy!
And here´s my take on it. Couldn´t resist twisting and turning it a bit ; )
On this card, I have been working with two separet digi-images... "Bunny and Bear" and "Sampler´s Block". The first one I coloured with distress inkpads and a waterbrush... and the second one I tried paper piecing..
A close-up on the sweet "
Bunny and Bear
" -digi from KLM. They are soo sweet, I think.
And another close-up... on the "
Sampler´s Block
". I printed it on three different design papers and then cut out the little pieces, one by one ,and then putting them together like this. It take´s a while... but I think it was worth the effort.
Hope you check out
365 Cards
and all the gorgeous cards provided by the talented ladies there. And please, come play with us! We have some great prizes for some lucky winners..
Have a great Sunday!
~LOVE ~
Sophia