Wee-hooo!
Summer is
still
here! It´s pretty warm, even in the shadows.
Soon will the kids go back to school.. but for a few more days, we´re enjoying our lazy days in the sun!
I have a new card to show you... yes... It´s Sunday, and that always calls for a new great
Sunday
Sketch
at
365 Cards
.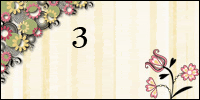 And here´s the awesome sketch....
And Pamela has managed to find us a new gorgeous sponsor! It´s
Robyns Fetish
.
Wee-hoo! I just looove this cute digi that I worked with... (and a few other as well... ; )
We had a few digis to choose from, and, for the first time ever, I felt like working with a cute cat-image.
Could it have something todo with the fact that we just recently welcomed two adorable little kitten into our family ; ) They are named Pepsi and Sprite and I will show you pictures of them later on.

Well... I wanted to try something a little bit different with this digi. Usually I just print them out in the size desired and then colour them. But not this time...
... no, I wanted to make my own pattern paper and then take it from there.
And here´s the result.... like it..?
I printed the image onto plain coloured scrapbook-paper. I then used promarkers to give, just two of the cats, a little extra colour. I coloured them with light grey and used a darker grey to enhance the outlines.
Some glossy accent on noses and necklaces... and a lovely rose to giveaway = )
I gently cut the paper so I could let the rose in under one feet. Used scrappyglue to make it stay in place.
The sentiment " Tack" means "thanks"... and this card will be given to one of the most sweet neighbours on earth! They have been taken care of our kittens when we were on vacation.
I hope you are checking out
365 Cards
today... the ladies have so much inspiration to share with you all... so go on...you don´t wanna miss it!
Have great Sunday everyone... and remember... I love it when you take your time to write me a comment... who knows.. I might have some goodies to share with one of you! ;)
~LOVE ~
Sophia