Yes, you could say that.... I sure am a little behind on posting my Sunday card for 365 Cards.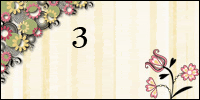 But I guess better late then never, right?
Soo. let´s get down to the sketch, provided by fabulous Pam.
As usual, I had to just flip the sketch over... think it´s the rebel in me , haha.
This sketch made me think of a snowman... and guess what? That´s what it turned out to be on my card * LOL *
The sweet snowman and the pattern paper are all from the same design sheet. I just cut the snowman out and then used the rest of the paper for the background. Love it when the papers are doublesided!
Here´s what the card looks like when standing up. Love that folding! Found the template for the folding over at
Bombshell Stamps
.
And a little close-up on the banner... I stamped the banner onto the same paper and then cut it out carefully. I was thrilled to see that it fit so well with the snowman... like a glove!
Well anyway... this has been one busy week for me. That´s why I´m so late posting this.
But I guess that´s life when you´re a mother of five, right? = )
Have a great Saturday!
~LOVE! ~
Sophia