Hi...!
Here I am... with another "late" post....* blushing *
Once again it´s my Sunday card for
365 Cards
... But hey!... better late then never, right? = )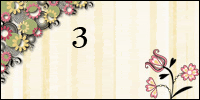 This week we were supposed to be sponsored by
Character Cafe
. Unfortunately, I didn´t get my digi in time to feature it on my card... Soo... I had to come up with another plan for my card ; )
Wich wasn´t all too difficult.. hence I had bought plenty of gorgeous rubberstamps at the Big Stamps and Scrapbooking Show in London!
But no Sunday without one of Pamela´s wonderful Sketches!
I just loved the clean look on this one. Fits just about every theme you could imagine. Lovely!
And here´s what I came up with..... Simply adore that sweet lady! Isn´t she gorgeous , or what?
Soo...hope you liked it.
Thanks for checking by... hope to have you back soon!
~LOVE ~
Sophia