Hi everyone...and welcome to another fun and challenging week at 365 Cards!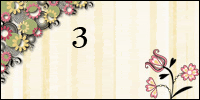 This week Catherine Pooler, an independent Stampin´Up demonstrator, is sponsoring our dt´s with some lovely papers and ribbons. She is also ready to give away a prize for one lucky winner in our challenges!
As always, Pamela gave us a fun sketch to play with. Check it out!

And I came up with this card. Papers and lace are generously sponsored by Cathrine Pooler.
Other then that, I used a free vintage picture , a gorgeous stamp from Lavinia Stamps and some chestnut roan fluid chalk.

Don´t miss your chance to see all the other dt samples... and maybe join in yourself. We would love to see your take on the sketch!
By the way... It´s been snowing here tonight and this morning I saw four cars parked in the ditch... luckily noone seemed to have been injured!
Have to go... Thanks for stopping by!
~LOVE ~
Sophia